28th Annual
Stockbridge Summer 
Arts & Crafts Show
Over 85 Jury Selected
Artists and Artisans
50 Main Street, Stockbridge, MA
August 17 & 18, 2019
Saturday 10-5   Sunday 10-4   FREE ADMISSION
The Stockbridge Summer Arts & Crafts show enters it's twenty eighth year in the area Rockwell called "the Best of New England, the best of America."   This show is located in historic downtown Stockbridge,MA on the beautiful grounds of the town offices and Bidwell park and within walking distance to specialty shops, boutiques, galleries, restaurants and the historic Red Lion Inn.  Stockbridge, blessed with internationally renowned summer festivals of music, theater and dance, major art museums and historic homes brings hundreds of thousands of art and craft lovers to our town.  This ideal, highly visible location is on the route to the Norman Rockwell Museum, Tanglewood and many cultural attractions. Stockbridge is within 2 ½ hours from Boston or New York City by car and less than an hour from Hartford, Vermont, Albany and southern Connecticut.
Become an Exhibitor (We are now full for the 2019 show, The jury deadline was 4/1/19)
Who May Exhibit?

All work must be hand made in the USA by the exhibiting artist.
Categories Accepted:

Ceramics, Fiber-Decrotive, Fiber-Wearable, Furniture, Glass, Jewelry, Leather, Metal, Mixed Media, Painting, Photography, Sculpture and Wood

We are also accepting a limited number of specialty food, food producers and Berkshire farmers.

Show Dates

August 17 & 18, 2019
85 Exhibitors

Located in beautiful Stockbridge, MA

Online

artist

listing & website

Show brochure listing

Promotional advertising

Free parking

Free admission

Nearby exhibitor parking

Full restroom

Easy loading/unloading

Prior show day setup
Among returning artisans in the 2019 show is Heather Kidson of Westwood, MA.  She fell in love with painting on silk while in art college and has never looked back. Her focus is to enhance lives by creating designs of beautiful color and composition.  Each piece is an original painting on silk. She offers wearable art with a touch of whimsy.  Sue McFarland of Conway, MA  is a felt maker and produces both functional accessories, sculptural and hanging work.  Margie and Bill Lombard of Saratoga Springs, NY showcased their 60 years of combined metal-smithing offering fine crafted jewelry. Thom Cassotta of Northampton, MA offers original textural work he considers to be a form of "contemporary Folk Art".  The work began with a combination of acrylic paint and textural papers, using sponge, stipple brush, lace tissue paper, crackle paint and miscellaneous findings.  He cuts and arranges the papers before applying an acrylic gel. No two works are alike.
Food Tents!
Tony Carlotto from Rolling Rock Salts will serve up various wraps and specialty dishes.  Patience Thomas from Great Cape Baking Company will offer hand cut cider donuts, gourmet breads and more.  Robert Walters from Island Cow Ice Cream will be serving up farm made ice cream. We also have a variety of specialty food tents offering vinegar, oils, jams, and honey.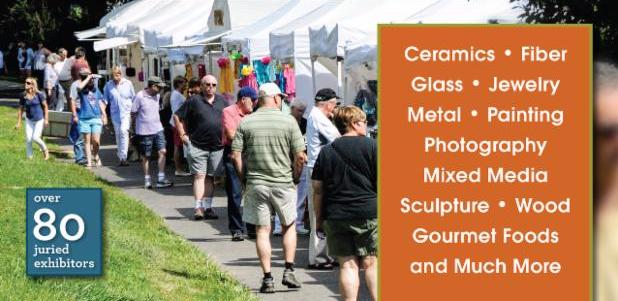 ---